Oversize Color & Canvas
Canvas Prints
Our high quality stretched canvas wraps are digitally printed at high resolution on semi­gloss canvas material. To ensure the highest quality and precision each canvas is carefully hand wrapped onto solid wood stretcher frame. Quickly transform your favorite picture into a piece of artwork.
Framed Prints
Introducing our Framed Prints. These elegant and handsome frames have genuine wood styling. However, they are constructed of an eco-friendly recycled polystyrene material. More lightweight than real wood frames and are much more durable in all climates. Features: 4 frame styles: Brown, Bronze Black, Silver, and Natural Wood.
Acrylic Prints
If your wall graphic deserves a clean modern aesthetic look no further than Acrylic Prints. Vivid clear gloss vinyl prints are face mounted on Acrylic/Plexiglass and then backed with white vinyl to make the colors pop. 1 inch Standoff hardware is included that brings the artwork into the 3rd dimension by creating separation from the wall.

Paper Posters
Paper Posters are printed on photo quality (glossy or matte) paper stock. They can be used to print enlarged photos, signs, artworks, etc. They are delicate and not waterproof.
Vinyl Banners
We use a premium heavy weight 13 oz. scrim vinyl banner. It has a very smooth surface for best printing results. This material is typically used for billboards, building wraps, banners, event flags, trade show signage, parades, etc.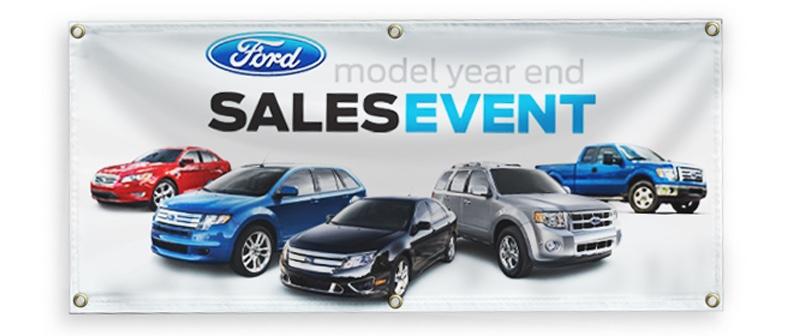 Rigid Signs | PVC Board, Aluminum, Coroplast, Foamcore
Foamcore is delicate and primarily used for indoor applications. Best for placing on easels for presentations or as a wall sign.
GatorFoam is an extruded polystyrene foam similar to foamcore. With its added strength from melamine and wood fiber veneer, GatorFoam is stronger than other foam boards. It is suitable for museum displays and presentations. 
Our Corrugated Plastic Signs are an option for outdoor signs such as real estate signs, parking signs, and election signs. They are compatible with wire stakes and metal frames. (10" x 30" H-Stake wire available.)
.040 Aluminum Signs are the longest lasting type of yard sign. It is very durable and guaranteed to last for a minimum of 5 years and will not rust. Our aluminum signs two corner options, straight corner and 3/4-inch rounded corner.
Our Aluminum Sandwich Boards are made with two sheets of corrosion resistant aluminum permanently bonded to polyethylene core. These substrates come 1/8" in thickness to fit most display stands and are perfect for long-term outdoor and indoor use.
PVC Poster Signs are perfect for making short term outdoor and long term indoor advertisements. The boards are water-resistant and the print is UV-resistant. These substrates come in 1/8" thickness to fit most display stands. 
Vehicle Magnets
Our magnet sheet uses a high quality 30 mil material with a smooth surface for best color printing. Best suited for car door signage, it also serves as temporary signage for construction sites or other quick-changing work environments.

Retractable Banner Stands
Our Retractable Banner Stand is a convenient and professional way to showcase your products and services. This stand has an adjustable support pole to allow for graphic size adjustment. And when not in use, banner can be retracted easily and stored in its casing. 
Flags
Our Flags are suitable for outdoor events. Effectively advertise your logo or message with a flag. Its curved sleeve and free-flying edge allows the flag to grab attention without wrapping around the pole, and assembly is easy. There are several different hardware options available to fit your need for the occasion.
Table Throws
Our table cover is a great table topper for trade shows, exhibitions, and any presentations. They are dye sublimated and are 100% washable made of 8.8 oz. polyester table fabric with rounded corners and hangs approximately 2" above the floor. Complete your presentation with our simple and cost-effective table cover.
Signicade A-Frame
The Signicade A-Frame is the ultimate sidewalk advertising solution for those that need quick change graphics. The heavy-duty plastic sandwich board has two recessed 24x36 inch recessed graphic areas on the front and back. Coroplast mounted vinyl graphics slide easily into place for full color signage, swap out these rigid signboard inserts as often as you need.
Tradeshow Products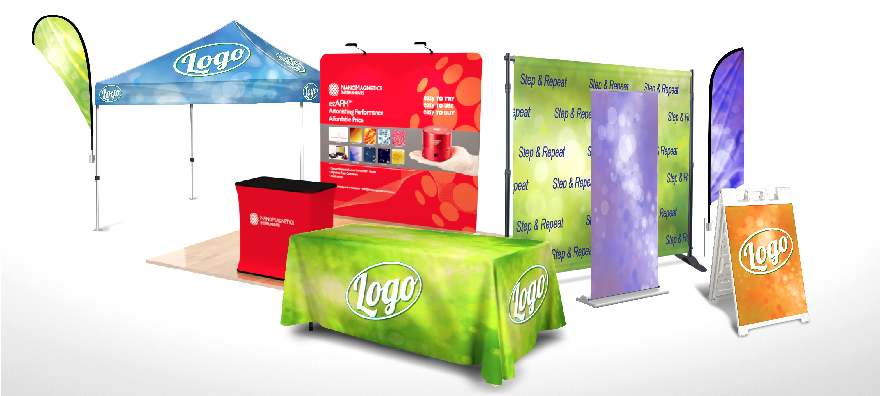 805.988.0075 | info@copycourt.com | Request An Estimate